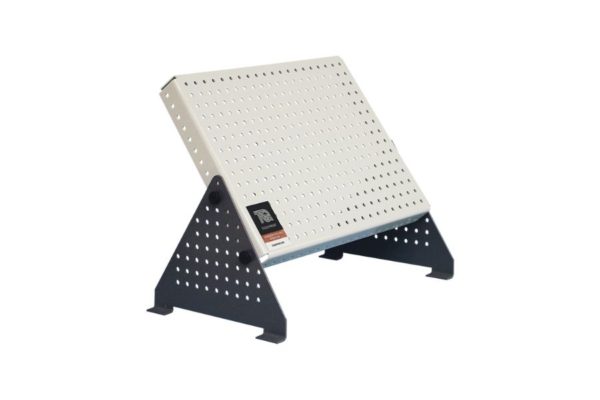 Engineering Science Work Panel

Multi-position Work Panel for use with TecQuipment's Engineering Science kits.
Features
For use with TecQuipment's Engineering Science kits, the Work Panel fits on any standard desk or benchtop. Students, teachers, or lecturers fit the parts of their kit to the Work Panel (ES1) to study or demonstrate an engineering science topic.
The Work Panel has its main panel and two supports. All are made from thick perforated metal to allow students, teachers, or lecturers to fit the parts of the kits and the Work Panel in any position suitable for the experiments. TecQuipment supplies a CD-ROM with the Work Panel (ES1). This valuable resource includes reproducible worksheets, guidance notes, and lecturer notes (with answers) needed for typical experiments with each kit. The selection of parts in the kits and the choice of fixing points on the work panel means that teachers or lecturers may extend the experiments to an even greater range.
Each of the Engineering Science experiments is designed to fit onto the robust Work Panel which is supplied with a full set of teaching resources. These resources include reproducible worksheets with background information, theory, instructions, and spaces to write answers and plot graphs. These are backed up with a set of guidance notes for teaching staff giving typical experiment results and answers. All the students need to bring along to the lab are basic drawing instruments and a pocket calculator.