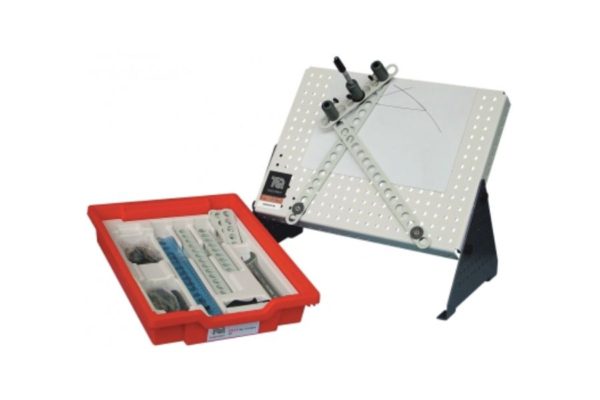 Bar Linkages Kit

A set of bars and pivot joints for students to understand different bar linkages and mechanisms.
Features
This kit includes a selection of over 20 perforated bars of different lengths and pivots or 'joints' to allow students to create an unlimited choice of linkages. It also includes magnetic 'wipeable' sheets and holders for non-permanent markers so the student can trace the relative movements of the linkages or joints.
The kit introduces students to key engineering terms such as four-bar linkages, rotary, and linear movement, and planar linkages.
Students assemble the bars and joints in any arrangement and note how the linkage converts movement from one form to another (for example; rotary motion to linear motion). Bar linkages are one of the most basic mechanisms used in mechanical engineering.
This versatile kit is part of a series that allows many experiments using different arrangements of their parts. Students, teachers, or lecturers fit the parts of the kit to the Work Panel (ES1) (supplied separately) to study or show an engineering science topic.
TecQuipment supplies digital versions of all the worksheets, guidance notes, and lecturer notes (with answers) needed for typical experiments with each kit. The selection of parts in the kits and the choice of fixing points on the Work Panel means that teachers or lecturers may extend the experiments to an even greater range.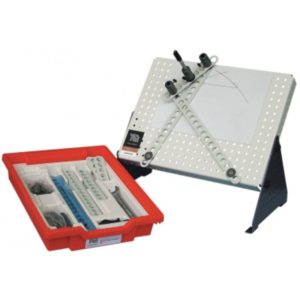 Additional Info
Learning Outcomes:

Four-bar linkages – crank rocker, double rocker, drag link and parallelogram
Straight line linkages – Watt's straight line, Chebyshev, Peaucellier-Lipkin, Hart's inversor, Robert's and Hoeken's
Pantograph
Ackermann steering

Curriculum Check:

VIC: Unit 1 - Area of Study 1 - Outcome 1

Unit 3 - Area of Study 1 - Outcome 1

QLD: Unit 4 - Topic 2

TAS: Learning Outcomes included in Curriculum

Specifications:
PDF Datasheet